---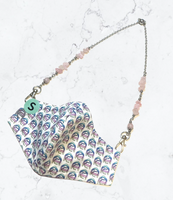 AC Magnetic breakaway stainless steel lanyard for face mask
Lanyard / necklace and earrings handmade in Burlington, MA for adults or kids. Beautiful natural stones on stainless steel chain or gold. You may add magnetic breakaway at the end, in the back or opt out of it! Wear it as a set or individually. We can customize and gift wrap ready to deliver! Sold separately. ***Face mask is not included, please browse my shop for more options.
SIZES
- Adult Face Mask Lanyard/Necklace: Approximately 20-23"
- Kids Face Mask Lanyard/Necklace: Approximately 15-20"
PLEASE NOTE: My delivery time is typically within 3-5 days after you placed the order (plus your method of shipment below). I am working hard to ship earlier, or meet the ship date given at the time of purchase. Thank you in advance for your patience and understanding.
**********
USPS First Class 4-7 business days
USPS Priority 2-4 business days
USPS Express 1-2 business days
DISCLAIMER:
Please note: 1) Our face masks /Lanyard/mask necklace are not a replacement for medical grade personal protective equipment. 2) Character image may get shifted or stones/beads/gems color may change slightly due to lighting of the photograph. Some may be different depending on inventory received or cut of fabric print. 3) ⚠ WARNING: CHOKING HAZARD for small children. Adult supervision required for both the mask/lanyard/necklace. Please note that the masks contain two small silicone pieces on each of the ear loops to allow for adjustment and nose wire for optimal fitting. Also lanyard/necklace has beads if they intend to break by pulling or with scissors, these small pieces are not toys; adult supervision is recommended for young children (as this can be a choking hazard and if they insert in mouth, nose or ears). You may remove the nose wire, beads, gem, or silicone stopper and tie elastics to fit. 4)This is not a licensed product. It is handcrafted by me. Some masks are from authentic licensed fabrics but most are not. AnnaCalisa is not affiliated or endorsed by any brand. 5) Masks are not intended to be used by children two years old or younger. 6)** Due to personal use of masks, returns are not accepted, due to sanitary reasons. If there's any issue, we will work with you to make sure the problem is fixed to stay safe. 6)**Please be aware of the magnetic features to some people with a pace maker in their heart. KEEP MAGNETS AWAY FROM PACE MAKER. 7)All mask lanyard /necklace sales are final, and no return or exchange will be accepted due to sanitary