---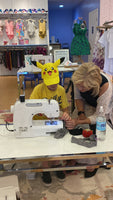 Sewing Workshop
Learn to sew with Sue! All about up-cycling, alterations, and projects by appointment! Learn how to hem, up-cycle your garment, or bring in a project! We are so grateful to have an expert leading this workshop with over 40 years experience! (full profile below). Whether you are looking to learn to sew, hem, finish a project, or learn a new skill, she will be your guide! This will be a one hour class. One-on-one by appointment only.
*Some projects may take one session, while others will take more than one depending on what you would like to achieve. Email Den@annaCalisa.com for more details on setting appointment. 
All skill level welcome! You may bring a project to finish or learn a new skill! 
-Wind your bobbin
-Thread your machine
-Hem your pants
-Alteration of your choice
-New project
*Beginners can use store sewing machines and supplies for the first class to tryout, but you will need your own machine at some point to be efficient. Also a list of required materials (may vary) is below for a second/third session. 
Things to bring:
*A sewing machine - beginners, you can use our machines here temporarily
*Fabric Scissor / Rotary Fabric Cutter
*Your Pins / Needles / clips 
*Fabrics / Threads
*Chalk / Fabric Marker
*Your Dress / Pants to hem
*Your Project!
Meet your instructor! Welcome Sue Long!
"My passion for sewing started when I took my first sewing class at the girls club of South Boston when I was eight years old. I haven't stopped loving it. Always had an interest in fashion design and altering clothing to my liking. I enhanced my skills when I worked at a men's clothing store Anderson Little as a Tailor in the 1980s. Soon after I started working out of my home while raising 3 children. In 1990 I opened a store front in Wilmington, MA Custom Stitch adding dry cleaning, embroidery and screen printing to the existing alteration business. Sold the business in 2011 while working in the hotel business, which I have since retired. Now I am back doing what I love. I have started teaching sewing, to new and advanced sewers, specializing in alterations! "
For more information you can follow Sue on her Instagram page @nanasue2014 !!