---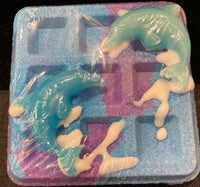 OAV Waffle Bath Bomb The Ocean
Bath Bomb Ocean
Drop this bath bomb into your bathtub. It's fun to watch it dissolve and bleeds in the bath water. It will definitely bring a blast in the tub.
About: 
This bath bomb contains some fun soaps on top. They are goat milk soaps scented with lemon essential oil. The creamy frosting on top that is made with cocoa butter. It gives you an extra layer to moisturize your skin.  
Scent:
Blend of chamomile & Lavender
How to use:      
Fill your bathtub with warm water, then drop the bath bomb in and enjoy the show. The bath bomb will starts to dissolve, releasing with the colorants, fragrances, and skin-loving oil & butter. The combinations will turn your bath water into a psychedelic blend of colors and scents as well as moisturizing your skin.
Safety:

The bath bomb colorants will turn your bath water into amazing shapes & colors. If you hold or play with the bath bomb, it might leave a temporary color on your hand and it is harmless. It's best to let it dissolves on its own.
The colorants used are FDA approved for bath bomb and designed specifically not to stain your bathtub with rings. Your soap, body & hair products can also create a buildup of residue around the tub that allows bath bomb ingredients to cling to.
We recommend you to rinse your bath tub with warm water after each use.

As product contains oils and may cause your tub to be slippery. Be careful when entering and exiting your bathtub. Keep out of reach of children.

Caution:
If you have any allergies, please carefully read the product ingredients prior to purchase.
Ingredients:
Sodium Bicarbonate, Citric Acid, Sodium Lauryl Sulfoacetate, Kaolin Clay, Cream of Tartar, Corn Starch, Phthalate Free Fragrance, Polysorbate 80, Cocamidopropyl Betaine, Liquid Glycerin, Shea Butter, Grapeseed Oil, Cocoa Butter, Isopropyl Alcohol, FDA approved Bath Bomb Colors